Confucius Institute Celebrating Birthday
On November 1, the Confucius Institute at Incheon National University (INU, South Korea) celebrated its fifth anniversary with elaborate decorations and illuminations. Together with about 200 local residents, many administrative leaders from both China and South Korea attended the celebration, including DUFL President Sun Yuhua, INU president Choi Sung Eul, Secreatary-general of Liaoning International Exchange Center Deng Jia, Deputy Director of Incheon International Exchange Corporation Yoon Myeon Sang, and more than 30 principals and directors from schools and Confucius Institutes in South Korea.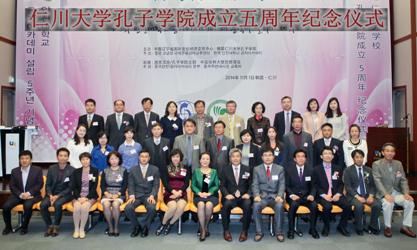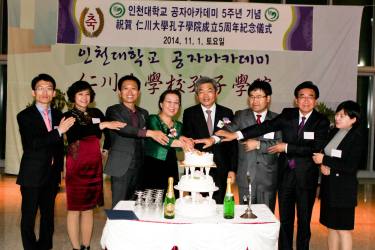 The celebration started at 4 o'clock local time. Guests from both parties delivered speeches expressing their congratulations, among whom Mr. Gao Shaoshan, on behalf of Counselor Ai Hongge, expressed his courtesy to the Confucius Institute at INU for its important role in providing Chinese language and culture lessons to Incheon residents, and in promoting cultural exchange and economic cooperation between the two countries. INU president Choi Sung Eul also expressed his congratulations to all faculty and students at the Confucius Institute on their endeavors and accomplishments in these five years.

Finally, President Sun Yuhua also gave her sincere thanks to all those who have helped the establishment and development of the Confucius Institute. She said the Confucius Institute at INU had become a tie to bridge the exchanges between China and South Korea in its globalized and diversified development. She also believed it would function more significantly in helping local residents with Chinese learning, understanding the Chinese culture and promoting cultural exchange.