Vice-President's Meeting with Canadian Delegation
Vice president Liu Hong of DUFL met with Kim Fidelson, president of Orillia Campus of Lakehead University, Canada and his entourage on Nov. 24. The two parties came to an agreement on issues such as launching a program exchanging faculty members and students, and cooperation in scientific research. Related staff from International Exchange Office attended the meeting.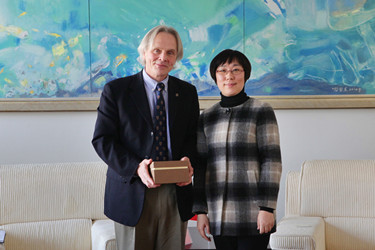 At the meeting, Vice President Liu warmly welcomed Fidelson along with his delegation for his second visit. She made a detailed introduction to the new progress in curricular design and talent cultivation in this university. She hoped that the two universities could expand the exchange of students majoring in International Relations, International Politics and language related areas, strengthen collaboration in academic research on language, cultural studies and Canadian literature, and promote the cooperation in international symposia. Liu also expressed her sincere wishes that Lakehead University, on the occasion of its semi-centennial this year, would become better in the future.

Fidelson thanked Liu for her warm reception and good wishes. He said that the visit acquainted him with the campus, its idea of education and the major settings of the university. Accordingly, he is confident about starting programs on student exchange, faculty communication and academic research. He proposed that, since Lakehead University holds academic conferences annually on Canadian literature, both universities encourage faculty and experts in the area to have more academic contacts.