Chinese Poems in Pontifical Bolivarian University
Led by Mr. Gao Zhengyue, Dean of Confucius Institute of Medellin, the teachers and students from the Institute were invited to take part in the activity of Oriental Poetry Club held by Pontifical Bolivarian University in July 22nd. Famous local poets and scholars were also present at the literature salon.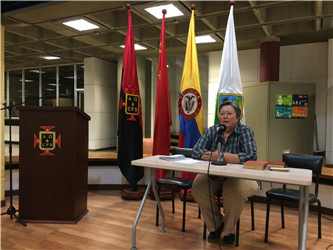 Ana Cristina, the curator of library of Pontifical Bolivarian University, said that the salon was to introduce Chinese poetry, through which local people could know better about China, its long history and profound culture. Gao made a brief introduction to the significance of culture and discussed the difference between Chinese and Western cultures. In addition, Gustavo Jaramillo, head of the Language Centre, declared that the Chinese class be available in September and invited people to register.
As a poet, Prof. Inés Posada made her point of view on classical Chinese poetry and works of masters like Li Po, Tu Fu, Chuang Tzu and Lin Yutang. She recited some poems in Spanish, as the Chinese teachers from Confucius Institute of Medellin recited some Chinese poems at the poetry slam. Without any knowledge of the Chinese language, however, the audience was deeply attracted by the melodious rhythm and the beautiful language. They said that Chinese was no longer a difficult task to learn.
The club activity would last for 4 months and there would be another two salons on Taoism and Mo Yan's novels.