DUFL Vice Secretary of CPC Committee Met with Guests from Victoria University of Wellington (New Zealand)
On July 7th, DUFL Vice Secretary of CPC Committee Li Baozhang met with John Davies — the Director of International Programs of Victoria University of Wellington (VUW, New Zealand). Heads of DUFL International Exchange Scientific Research, and School of English Studies attended the meeting.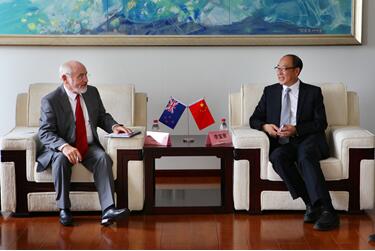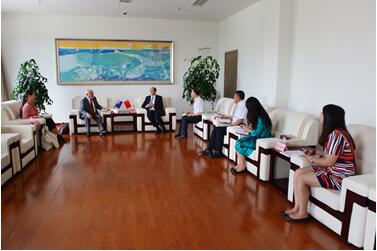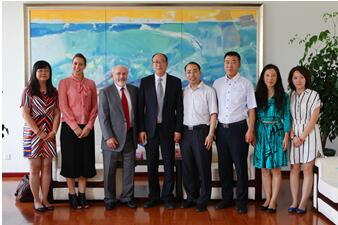 Mr. Li expressed his warm welcome to Mr. Davies and other visiting guests, and he also thanked them sincerely for their cordial hospitality during his visit to New Zealand in June when the cooperation intent of both DUFL and VUW was preliminarily discussed by both sides. He hoped both parties, by making the most of their advantages in school culture, disciplinary construction and talent training & development, could go further to promote mutual understanding and communication via this visit to DUFL, so that the cooperation programs could be started up soon.

Mr. Davies also expressed his thanks for the hospitality. He said China and New Zealand had a lot in common, and that DUFL and VUW were also much alike in the scale of school management, history and disciplinary construction, which made it possible for both schools to cooperate with each other by means of exchange visits, student exchange programs, staff exchange programs and academic collaboration. He also expected for the early startup of the cooperation programs so that the exchange and cooperation between students, teachers and education could all be realized and boosted.

Then both sides discussed the details of all these exchange programs relating to their construction, students, teachers, courses and credits, and finally reached a satisfactory letter of intent.
External Links:

Victoria University of Wellington is well-known for its diverse range of qualifications and study options. It offers a very flexible study for Bachelor's degrees, Master's and PhD's in all kinds of subjects such as architecture, designing, law, fine art (education & music), science & technology and so on. Victoria has been consistently New Zealand's top ranked university for research quality and has ranked the 207th in the World's Top 500 Universities, which sees an increase from the rankings of the latest five years.