The Chinese Academy and off-campus practice bases open the talent order customization training mechanism
The Chinese Academy and off-campus practice bases open the talent order customization training mechanism
On October 8, the Chinese School of Dalian University of Foreign Languages ​​and the Puxin Dalian School of Puxin Education and Technology Group jointly held an off-campus internship practice base signing ceremony. The two units also signed the "Talent Training Cooperation Agreement" to start customized talent training mechanism.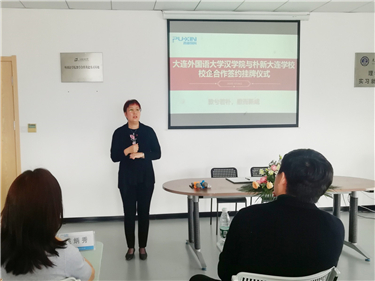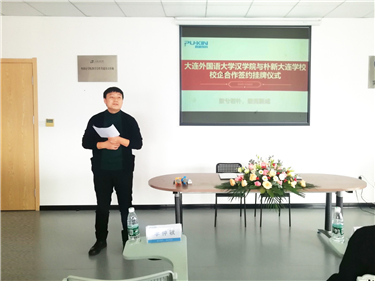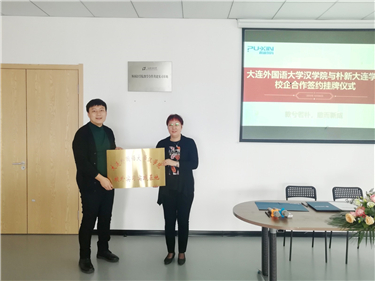 Puxin Education Technology Group was established in 2014. It has multiple business systems such as training, consulting, basic education, cultural communication, and system management. It has integrated more than 50 well-known education brands in more than 30 cities across the country and has more than 400 teaching areas , With more than 10,000 faculty members, the group was listed on the New York Stock Exchange on June 15, 2018. Puxin Dalian School is a branch of Puxin Education Technology Group. It currently has 30 campuses in Dalian and has more than 800 employees, including more than 30 graduates of Dalian University of Foreign Languages. The main business includes application for study abroad, basic education, quality education, and the business system covers preschool, elementary school, junior high school, high school, and university.
At the signing ceremony, Chen Zijiao, Dean of the School of Chinese Studies, expressed his hope that through the establishment of a school-enterprise joint training platform, the resources of the two schools can be used to enhance students' practical ability and jointly improve the quality and level of talent training. In his speech, Li Zhongqiu, the principal of Park New Dalian School, thanked Dalian University of Foreign Languages for the excellent talents that Dalian University of Foreign Languages has sent to the school over the years, and highly recognized the school motto of "Inclusive of Virtue and Culture" and the quality of talent training. He also wished the two units to strengthen cooperation in the future. Deepen the training rules and work together to achieve a win-win situation for schools and enterprises in the future.
After the signing ceremony, Dean Chen and President Li discussed the details of the in-depth cooperation between the two parties and the formulation of training programs. The two parties reached a deep consensus on the cooperation and co-construction of a customized training mechanism for talents.
In the future, the Han College will continue to actively expand the cooperation and co-construction mechanism with educational enterprises, promote the education and training of relevant professional undergraduates, masters, and international students in our school, actively promote student internship practice, and steadily promote the employment of students in Liao Zailian. Continue to work hard to promote the all-round revitalization of higher education services in Liaoning. (Fang Kejia)