Professor Liu Yan from Beijing International Studies University visited the "Everyone Forum" of the School of Chinese Studies to talk about Galik's Sinology research
Professor Liu Yan from Beijing International Studies University visited the "Everyone Forum" of the School of Chinese Studies to talk about Galik's Sinology research
At 7 pm on November 5th, Liu Yan, Professor of the School of Culture and Communication of Beijing International Studies University and Director of the Overseas Chinese Studies Center of the Chinese Culture Research Institute, gave a lecture "The Research Paradigm and Insights of Chinese Modern and Contemporary Literature of Sinologist Galik" The "Everyone Forum" of the School of Chinese Studies was held, hosted by Dean Chen Zijiao, and teachers and students of the School of Chinese Studies and some teachers attended the lecture.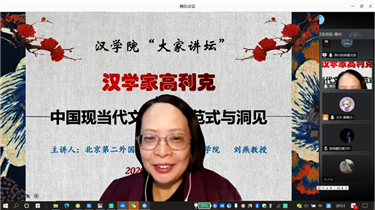 Professor Liu Yan first started with her transnational friendship with the famous Slovak Sinologist Marian Galik, and introduced us to the history and culture of Galik's hometown of Slovakia and the "Prague Sinology School" as the academic background of Galik. The origins, ins and outs of sinology studies have been displayed more clearly; next, she detailed the research paradigm, representative results, translation and international influence of Galik's modern and contemporary Chinese literature, especially his "system-structure", "antagonism-reaction theory" and intertextuality research, etc., and placed them under the vision of the literary community to study their internal literary relations and literary motif types; on this basis, summarizng the four major characteristics and insights of the Galik Sinology Researching ; then, with Galik as the center, radiated to the entire Eastern European sinology research, and reflected on the conclusions generated from the perspective of the other; finally, some issues were put forward for students to think after class .
After the theme lecture, the students were still not reluctant to leave and rushed to ask Professor Liu Yan questions. In the next hour, Professor Liu Yan answered in detail the students' questions concerning misunderstandings about the other, the connotation of modernity, the image of the East, phenomenology, and the perspectives of interdisciplinary researchers' sinology research. The students admired professor Liu Yan's serious attitude and profound knowledge, and her detailed answers also benefited everyone a lot. The students expressed their hope that there will be opportunities to continue listening to professor Liu Yan's lectures in the future.
Overseas Sinology research is an important direction in the field of international Chinese education research, and it is also one of the three characteristic research directions of the Chinese first-level subject of the School of Chinese Studies. It can rethink and reflect on the generation, development, and global significance of Chinese literature and culture. The paradigm and theory of literary and cultural studies, and the examination of blind spots in their own research may provide new perspectives and methods. This lecture is the theme lecture of the "Everyone Forum" of the School of Chinese Studies in November. Under the guidance of professor Liu Yan, the students not only broaden their horizons and increase their knowledge, but also link up the previously scattered knowledge, which makes them familiar with the international sinology field. The cognition is more systematic, and they have mastered the cutting-edge research methods in the field of comparative literature and sinology at the beginning, and have obtained great gains. The students have also obtained a lot of enlightenment in the topic selection and writing of the paper. (Fang Kejia)