The 2020 International Art Academy's Debate Competition ended successfully
The 2020 International Art Academy's Debate Competition ended successfully
On the afternoon of November 6, the 2020 International Art Academy's Debate Competition kicked off in Room 507, Yifu Building. The theme of this debate is "Pros and Cons of Entrepreneurship for College Students". The positive view is that the advantages of undergraduate entrepreneurship outweigh the disadvantages, and the negative view is that the disadvantages of undergraduate entrepreneurship outweigh the benefits. Representatives from the Student Union of the Youth League Committee of the International Academy of Arts and outstanding debaters attended the competition as judges.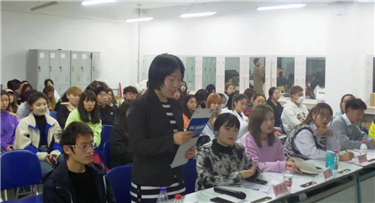 This debate contest is divided into four stages, namely the submission stage, the debate and cross-examination stage, the free debate stage, and the summary submission stage. At the beginning of the debate, the two sides used clear logic, rigorous thinking and refined language to make statements, and their unique insights aroused bursts of applause. During the questioning session, the second defense of the two parties raised questions about the language loopholes of the other party, which caused the atmosphere of the scene to rise rapidly. The debaters' witty remarks, quotations from side to side, and argued for reason, all of which aroused a burst of applause from the audience. During the free debate, both sides argued with their own opinions, had clear thinking and frequent golden sentences, and demonstrated their opinions from multiple angles.
The intense and fierce and exciting competition recorded the outstanding demeanor of every debater. In the end, the debate ended with the winning of the opposing side. The judges and each outstanding debater summarized and commented on the debate, pointed out their advantages and disadvantages for each contestant, and praised and encouraged each debater.
This debate ended successfully after the students experienced fierce confrontation. Although the debate time is short, it demonstrates the on-the-spot adaptability and rigorous thinking and logic ability of the debaters. The contestants gave full play to their own strength and demonstrated their personal style. This competition injected fresh blood into the debate team of our college. It not only created a good atmosphere of diligent study, but also enriched campus life, improved the overall quality of students, and promoted the establishment of a good academic atmosphere in the college. (Han Jingxuan)