Institute of Russian Study held the Alumni "Job Talk" Cross-border E-commerce Sharing Meeting
Institute of Russian Study held the Alumni "Job Talk" Cross-border E-commerce Sharing Meeting
In order to strengthen students' understanding of cross-border e-commerce, improve the consciousness of students' career planning and job preparation, on March 22 afternoon, we have the honor to invite 2011grade alumni majoring Arabic of Institute of Russian Study, amazon advertising experts, amazon sellers mentor Ren Jiawei to have a special meting for sharing their inspirational success in room 403 of LiZi building, and also have the honor to invite general manager of two cross-border electricity companies to present and Liuxin, secretary of the communist youth league of Institute of Russian Study to preside the meeting.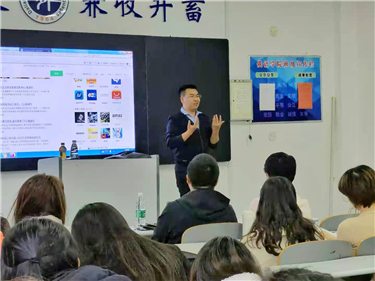 In the sharing meeting, Ren Jiawei recalled the inspirational story of his growth, from living frugaly, doing two work-study jobs in the school to the company's annual sales over 100 million yuan. He used simple and sincere language to teach junior students about career planning,employment and the work experience. He encouraged them to actively participate in social practice, do more off-campus internships, accumulate work experience, cherish and plan their college life. And from a professional point of view for everyone to analyze the current situation of the sunrise industry direction, and said that they may actively help them to provide quality internship positions.
Subsequently, Ren Jiawei systematically introduced the cross-border e-commerce industry to his junior students and impart his industry experience to them without reservation. He has been engaging in industry training for five years and has cultivated more than 10,000 on-the-job students. After that, he patiently answered the questions about the internship and employment of the students, helping them better understand the cross-border e-commerce industry. Finally, he thanked the school's financial aid policy and the teachers' training, which enabled him to successfully complete his studies. And through his continuous efforts, he achieved today's achievements. In order to further return to the favor to his Alma mater, He on the spot promised junior students that his training courses will be provided free to the alumni .
The sharing session of Ren Jiawei's gratitude to his Alma mater not only broadened the vision of the students, but also helped them to clarify the direction of their career development. At the same time, it stimulated the motivation of their future study. A journey of a thousand miles begins with a single step. I hope all of you can work hard to realize your dream of youth.