Institute of English Study carried out the teaching practice and publicity activities of school-enterprise cooperation
Institute of English Study carried out the teaching practice and publicity activities of school-enterprise cooperation
On the morning of March 19th, the teaching director of Dalian Tongzheng University visited Institute of English Study and held an internship lecture for the students in the education direction of Grade 2018. Zhao Yue, Director of Teaching and Research, and Yu Jinming, Head of Parent-Child Activity Project Team of the English Growth Center of Dalian Tongzheng University Cultural Training School, delivered the speech. Qu Tao, Vice President and Gao Jun, teacher of the Institute of English Study attended the event.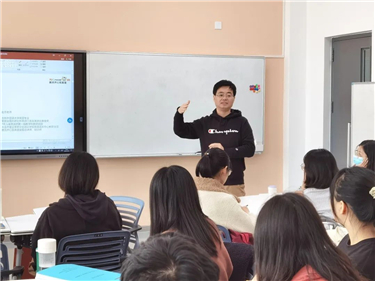 First of all, Vice President Qu Tao explained and mobilized the students' teaching practice in the direction of Grade 18 education of Institute of English Study. In this semester, in addition to participating in the online support teaching program of "Shanjiao Foreign Language Program", students from the education direction of Grade 18 will also have an offline internship in Dalian Tongzheng University, the "off-campus practice base" successfully established by the Institute of English Study last year.
While giving full recognition to the students' volunteer teaching performance last semester, Vice President Qu Tao stressed that we should make full use of this opportunity to learn more knowledge and accumulate more experience. And he urged the students to go out to do a good job of epidemic safety protection, obey the management rules and regulations of the school, organize regular feedback and exchange, and combine theory and practice perfectly in the internship process. I believe that the students' professional ability and teaching ability will be improved in the internship process.
Then, Miss Zhao Yue had a simple game interaction with the students, and introduced Dalian Tongzheng University and shared her internship and work experience. It is hoped that students can set goals as soon as possible, often examine themselves, be firm in their original mind and have a peaceful mind, so that they can reap the sense of honor and achievement brought by their career in the future education work.
Then, Mr. Yu Jinming introduced and explained the activities of the Parent-Child Club of Dalian Tongzheng University. Finally, Ms. Zhao Yue told the students about the course process and teaching methods of English learning training through a video, and explained the relevant matters such as pre-job training and internship time allocation. Miss Zhao said that she was looking forward to cooperating with the students of the Institute of English Study.
Tong Zheng University is a very good platform for learning and practice in the cooperation between schools and enterprises for the Institute of English Study. We hope that students can fully show their talents in this teaching practice, improve their comprehensive ability in practice, carry out work creatively, and fully display the spirit and professional quality of students of the Institute of English Study.