Pan Xiyang, a student from the School of Journalism and Communication, won the first prize in the 6th College Student Art Performance of Liaoning Province
Pan Xiyang, a student from the School of Journalism and Communication, won the first prize in the 6th College Student Art Performance of Liaoning Province
In order to thoroughly implement the Party's education policy, promote the all-round development of college students' moral, intellectual, physical, aesthetic and labor cultivation, and show the vibrant youth style of college students and the achievements of art education. Organized by the Ministry of Education of Liaoning Province, The special art performance of college students with the theme of struggle innovation and dedication was launched. Under the guidance of teacher Ms. Song Lili, the work completed by Pan Xiyang of Grade 2019 won the first prize in this competition. The work also won the third prize in the collection and exhibition of micro films (micro videos) with the theme of socialist core values organized by the Propaganda Department of the CPC Provincial Committee and the Internet and Information Office of the CPC Provincial Committee and organized by Liaoning Daily.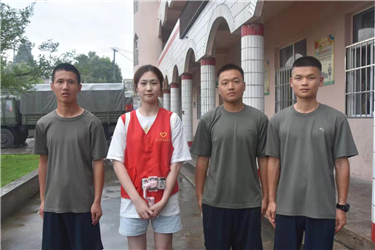 From the first perspective and with personal experience, Pan Xiyang's micro video work "unite as one" tells the story of the flood fighting by stationed troops soldiers, and volunteers at the critical moment in the flood flooding. This work shows China's strong comprehensive national strength and national cohesion, reflects the Chinese people's dedication to overcome all kinds of difficulties and obstacles, keep moving forward, fear no sacrifice and charge ahead, and expresses her respect for the flood fighting soldiers on the front line.
The School of Journalism and Communication focuses on cultivating students' humanistic feelings, practical and innovative abilities, and at the same time strengthens the cultivation of their professional knowledge. In order to be true, innovative, knowledgeable and honest in behavior, with social needs as the goal and employment as the orientation, students can combine practice with concept, unify knowledge and skills, enhance students' ability to use their hands and brains, and contribute to telling Chinese stories well and spreading the voice of China.
At the same time, this award can also encourage students to improve their professional skills,to actively participate in the major competitions and practical activities. And to make unremitting efforts for consolidating their professional foundation and improving their comprehensive abilities.