The International Academy of Art held the "Never Forget the Beginnings" Performance Practice Report Concert
The International Academy of Art held the "Never Forget the Beginnings" Performance Practice Report Concert
On the evening of March 24th, the performance and practice concert of "staying true to the original intention -- teacher Sun and her students" was held in room 409 of Qi Hang building of Dalian University of Foreign Languages. Heads of relevant departments of the school, all members of the leadership team, directors of relevant teaching and research departments and teachers and students representatives attended the concert.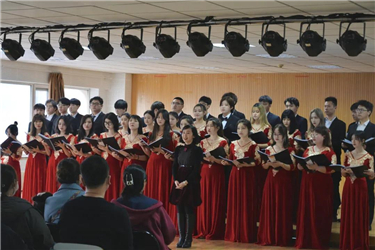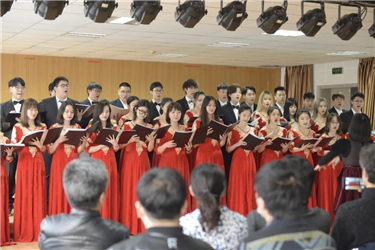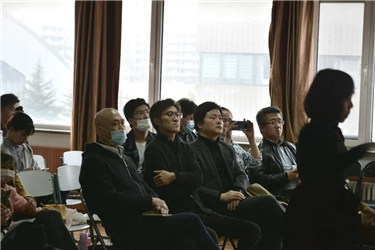 The concert was conducted by Sun Rujie, a young teacher, accompanied by Wang Xintong on the piano, and sung by students from the choir of International Academy of Art. The Concert presented altogether 10 chorus works of different styles and different languages, beginning with qinghai folk song " half moon climb up "and xinjiang folk song" unveil your veil", then the girl chorus" on the wings of the song "and "fly over the rainbow ", mixed chorus of four vocals "night at the naval port ",then male "Yuyang came in agitatingly " and " the hunter chorus ". and ended with "missing", "do not forget the original mind" and "Tian Yao Zhonghua" .
Among which works "missing" is our musicology professional teachers Zhu Xuemin's original work, with a beautiful melody, sincere emotion , the work fully embodies the teachers creative ability and professional level, at the same time under the choir students perfect presentation, it fully shows more outstanding achievements in the school music teaching.
This year, as the 100th anniversary of the founding of the communist party of China, this concert with "don't forget the beginner's mind" as the theme, presented all the teachers and students' best wishes to the great communist party of China in her 100th anniversary. Under the leadership of the communist party of China, bless our great motherland more prosperous and strong, bless our beautiful Dalian University of Foreign Languages a more glorious future!